Streaming to Twitch
XSplit has always been the gateway for streaming games and major live production events on Twitch. Here's our guide on how to start streaming to one of the most popular platforms online.
Sign In
Set Up Your Presentation
Set Up Your Twitch Output
Start Your Twitch Livestream
Twitch Stream Properties
Sign In
When launching XSplit Broadcaster for the first time, you'll be asked to
Sign In or Sign Up
for an XSplit account to use the app. Click the Sign In button if you've already created an account.
And if you haven't signed up yet, go here to register an XSplit account with your email.
Once you've clicked sign in, the app will use your browser to authenticate your XSplit account so make sure that it is logged in on our browser site.
Set Up Your Presentation
Now, you'll be brought to the main XSplit Broadcaster window. Here, you can add sources, which are anything that you want to present in your stream or recording such as your game, overlays, or Twitch widgets. You can learn more about adding Sources by
clicking here
.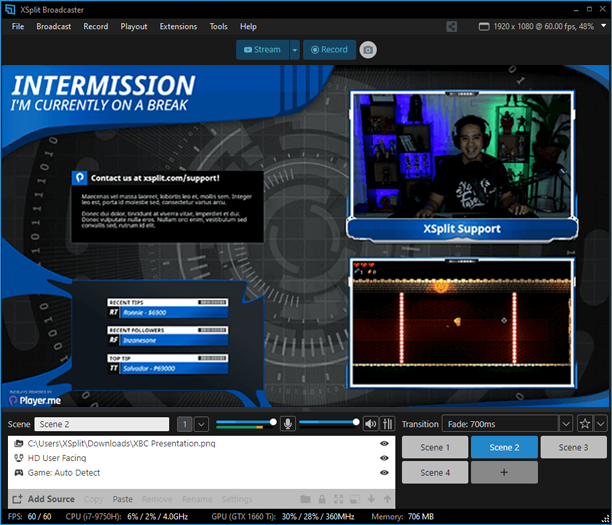 Did you know that XSplit Broadcaster has built-in Twitch Widgets? Click here to learn more.
Set Up Your Twitch Output
After your sources are ready, let's now set up your Twitch broadcast output. Go to the
Broadcast
menu, and select
Set up a new output
, then click
Twitch
. This will take you to a wizard that will easily link and authenticate your Twitch channel for streaming.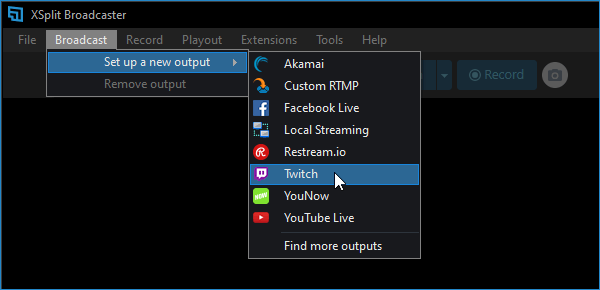 All Twitch streamers are required to enable Two-Factor Authentication (2FA) for your Twitch accounts before you can broadcast. Click here to learn more.
4. Start Your Twitch Livestream
You're now ready to start a stream. Go to the
Broadcast
menu again and select your created
Twitch
output.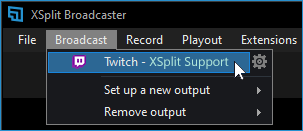 Alternatively, you can also start your stream by clicking on the Stream button at the top bar section of Broadcaster.

A red status bar should appear at the top of the XSplit Broadcaster application window showing that you're live stream is running.
Twitch Stream Properties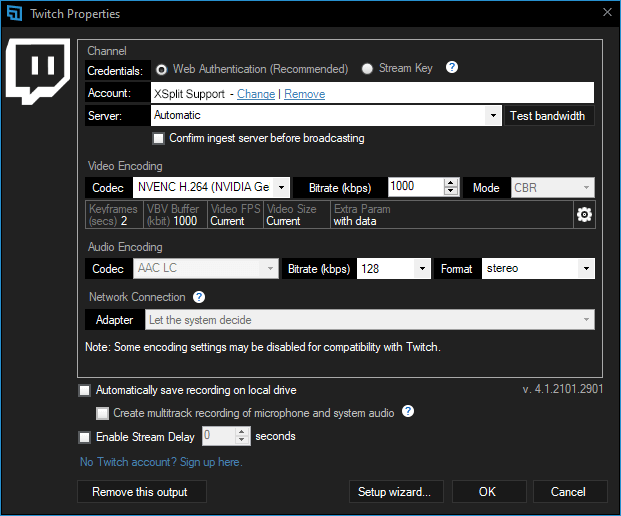 Credentials
Choose between Web Authentication which saves your Twitch credentials after authorizing or manually inputting your Stream Key from your Twitch Dashboard.
Web Authentication (Recommended)
Selecting this option will let you authorize your account using your Twitch login. This option is selected by default.
Account
Your Twitch account, click on
Authorize
button to register this detail.

Stream Key
Selecting this option allows you to input your Twitch username and stream key manually.
Username
The Twitch username of the account you will stream to.
Stream Key
The unique stream key is found under Stream Preferences in your Twitch Dashboard.
Server
Choose which ingest server to use. It is recommended to use Automatic or the server with the lowest ping timing.
Confirm ingest server before broadcasting
Allows you to choose the ingest server before you start livestreaming.
Updated on: 15/08/2022