In-game HUD
The In-game HUD lets you control your stream and recordings without leaving your game. You'll be able to add widgets you can view in-game such as your stream chat and stream status.
Enabling the In-game HUD
You will need to set a hotkey to launch the HUD within your game first. Open your
Hotkey Settings
, scroll down and set a hotkey for
HUD
In-game HUD overview

Stream Button
Allows you to start and stop your streams in the future. Meanwhile, you can start your streams as usual and the Dashboard of that stream will appear in the HUD.

Record Button
Allows you to start and stop your local recording. When your local recording is active, pressing this button will stop it while hovering over it will show the recording status and allow you to pause it.


Microphone Button
Allows you to mute and adjust your microphone's volume when you click it.


Desktop Audio Button
Allows you to mute and adjust your system sound's volume when you click it.


Pinned Widgets Button
Opens the widget management screen.
Scenes
Allows you to switch between your presentation's scenes by clicking on their preview windows. Hovering on the scene's preview window will update it.

Stream Dashboard
The Stream Dashboard will contain information for your livestreams as well as the stream chat.

The tabs on the left will indicate your streaming status with a
red dot
and multiple tabs will appear for each streaming service you are streaming to.

The upper-right part of dashboard will allow you to stop active streams and close their respective dashboards.

Pinned Widgets
Pinned widgets allow you to see your chat and stream status while playing your game without the need for a second monitor.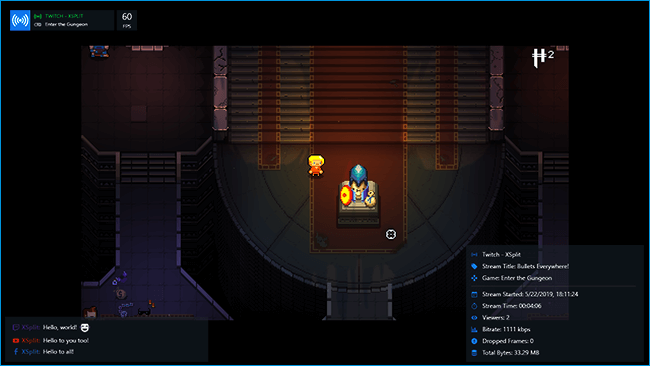 Clicking on
Manage Widgets
will show a window of widgets you can add.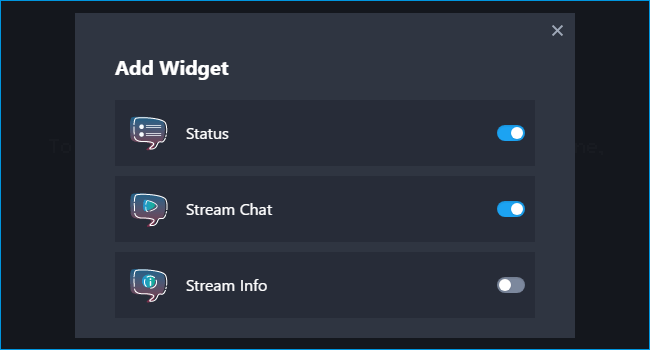 While on the pinned widgets screen, you'll be able to move and resposition the widgets by dragging them around. Widgets like the stream chat and strean status can also be resized by dragging on their corners.

Various settings such as the widget's
background opacity
and
fade out time
when you close the HUD can be changed by clicking the
gear icon
.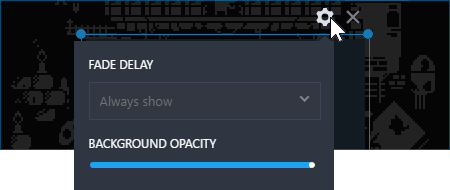 These widgets will only be visible to you and will not be shown on your stream or recording, allowing you to position them as you like without affecting viewer experience.
Status
Shows your broadcast status, FPS and which service you're currently streaming to. In some services such as
Twitch
, it will also show the game you're streaming and capturing.

Stream Chat
Shows your stream chat. This combines all the chats and comments from supported streaming services if you're streaming to more than one.

Stream Info
Shows various information about your current stream such as your current stream time, viewers and bitrate similar to the information shown on XSplit Broadcaster's top title bar when you start your stream.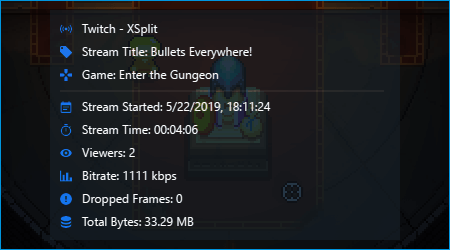 Updated on: 11/08/2022