How to Setup your Stream
XSplit Broadcaster is a great way to get creative with your streams and videos. It provides you with awesome features that will make streaming and recording videos convenient and easy. Here, we're going to show you how to setup a Livestream on XSplit Broadcaster.
Setting up your Broadcast Outputs
With your game and other sources added, you're ready to set up your Broadcast outputs. First, go to
Broadcast
then
Set up a new Output
. Just select the streaming service you'll be using and a setup wizard will be launched to help you create your Broadcast output. This wizard will optimize your stream settings based on your hardware and internet connection.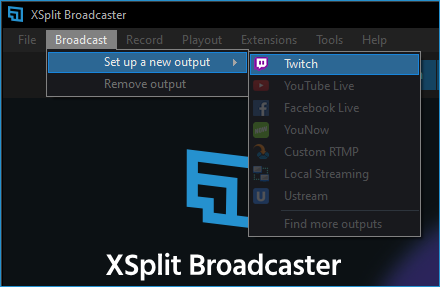 We have articles on how to set up your outputs for popular streaming services. Here are the links:
Twitch
Facebook Live
YouTube Live
If you don't see your preferred streaming platform, click on
Find more outputs
. You'll be directed to the Plugin Store where you can select and install more outputs.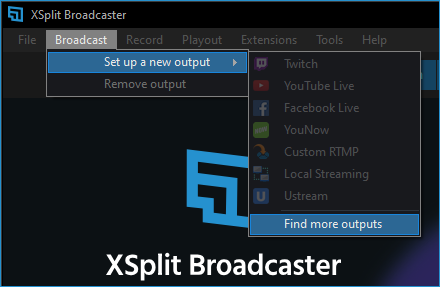 For other services that doesn't have an output plugin, you can stream using Custom RTMP instead. You can click here for more information.
Setting up a Custom RTMP Output
For other services that doesn't have an output plugin, you can stream using
Custom RTMP
instead. This will require you to have a RTMP URL and Stream Name for your Broadcast. Once you have set your RTMP Details you can now set your preferred encoding settings.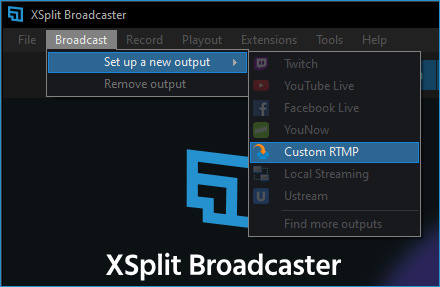 Starting Your Livestream
You can go back to the
Broadcast
menu and click the output of the streaming platform where you'll be broadcasting into.
The
Broadcast Details
window will appear which allows you to input your stream details such as
title
,
description
, etc. Once you're done, you can click
Start Broadcast
to start your stream.
Updated on: 15/08/2022