Game Capture
Game Capture allows you to directly capture PC Games running DirectX, OpenGL, or Vulkan so you can add them as a source in XSplit Broadcaster while retaining its visual quality.
Go to
Add Source > Game Capture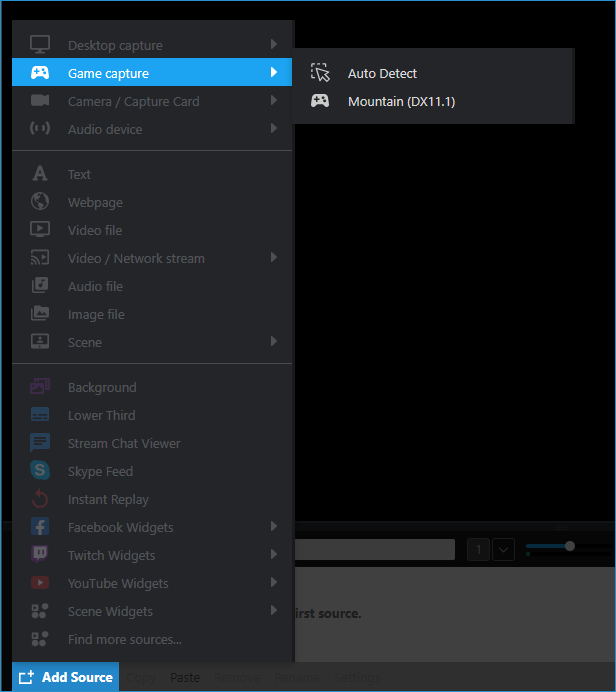 Auto-detect
Auto-detect captures the game screen in your current active window. This is a good choice if you have multiple game screens running and you would like XSplit broadcaster to switch the game source shown based on which game is currently active.
Selecting the Game from the List
You may also choose to select the game process itself from the Game Capture add source menu, so it stays in your scene regardless if it's the Active window or not.
Game Source Properties
Right-click
on the Game Capture source to bring up the
Game Capture properties window
where additional options are available.
If Game capture is unable to find your DX12/Vulkan Game, you may go to Tools > Settings > General then make sure Enable DX12 and Vulkan game capture is checked.
Show Mouse
Enabling this will make the mouse cursor visible in the capture.
Enable Special Optimization
Enabling special optimization lessens stuttering issues and improves FPS for games (especially DirectX 9 and 11 games). Note that some games require this to be disabled to be properly captured.
Enable Frame Smoothing
Captures every frame instead of at an interval based on the mixer's FPS, ensuring the smoothest motion possible. Disabling this may improve performance at the expense of the small possibility of missing frames near keyframes.
Allow Transparency
Allows the use of transparency effects in your Game Capture source.
Limit Game FPS
You can use this option to limit any game that game capture source hooks into. This is useful for games with no FPS limit options or if you are trying to lessen the load on your computer's resources.
Enable HDR
Enable High Dynamic Range for your Game capture source
Offline Image
Allows you to add an image that will be shown in place of your Game screen when the game is not running.
Updated on: 11/08/2022